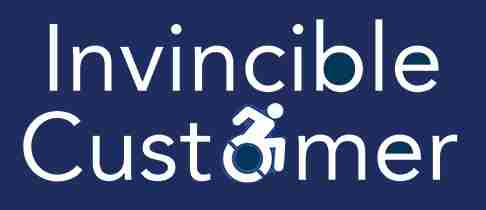 Serving The Broader Average
About InvincibleCustomer.net
Our mission is to assist individuals with disabilities in assessing the quality of goods and services
they are offered; and to encourage companies and other organizations to consistently deliver
excellent disability and non-disability products and services.
TRUENESS
We embrace honesty, fairness and ethical behavior.
We respect and honor our commitments to our employees and others we serve.
POLE STAR
We focus on what aligns with our core values, building on our strengths in providing quality products and services.
Fun
We embrace the slogan emblazoned on the T-shirt of a friend (a former Navy fighter pilot) of our
founders: "If you're not having fun, you're not doing it right!"
INTERPERSONAL COMMUNICATION EXCELLENCE
We strive for interpersonal communication excellence by talking things out while respecting each other, and freely making amends when we slip.
ATTAINING D4
We strive to helping our people get to D4, the highest level of development in the Situational
Leadership® II model espoused by Dr. Ken Blanchard.
SELF LEADERSHIP
We each take personal responsibility for keeping our website vibrant, innovative and future thinking while embracing compassion, humility, and abundance.
OUR TAGLINE
Serving The Broader Average
Maria Benktzon, a famous Swedish industrial designer speaks about designing for what she calls
the "broader average," meaning taking people with disabilities into account when designing
products, machines and environments. (In "Human Factors in Product Design: Current Practice
and Future Trends, (1999)" 16.9 Design for a broader average. p.168)
Emergency Prepardness
Employment
Health
Housing
Technology
Transportation
Featured Posts
Reader Questions
IC Profiles
IC Podcast
IC Animals
(Service and Comfort)
IC Business Showcase